International Women's day and our holiday camp
Hi All,
This week we had International Women's day, I believe women have so many special skills that they bring to the club. Our management committee consists of 3 females & 3 males ( Kelly, Janette, JuLi, Mike, Eric, Mark,) our age coordinators have 5 females & 3 males (Janette, Nazeera, Kelly, Kristina, Lisa, David, Eric, Mark, ) & 24% of our players are girls.
We would like to thank all the ladies that help us make Runcorn Rockets Basketball the club it is. Moving forward I would like to see more women in a coaching roll with the club. We do have some exceptional lady coaches so if you would like to be part of the coaching team, the club will support you with the technical side of Basketball and assist with the practical coaching process.I find females communication skills are exceptional & it would be great to show young children that mum is just as capable at Basketball as what dad is. We often have 2 coaches so we are happy if you would like to be part of a team & share the load.
During the School holiday we have organised a Holiday camp for children aged 6 to 16 that we will be holding it at the Runcorn State High school stadium. Southwest Metro will be supplying the coaches & these coaches will be players from their NBL 1 team. The NBL1 competition will start 15th May & we will keep you informed with what Rockets will be doing on that date.
Please tell your friends about this & we will be inviting students from several schools to attend, if you would like to attend please register as soon a possible.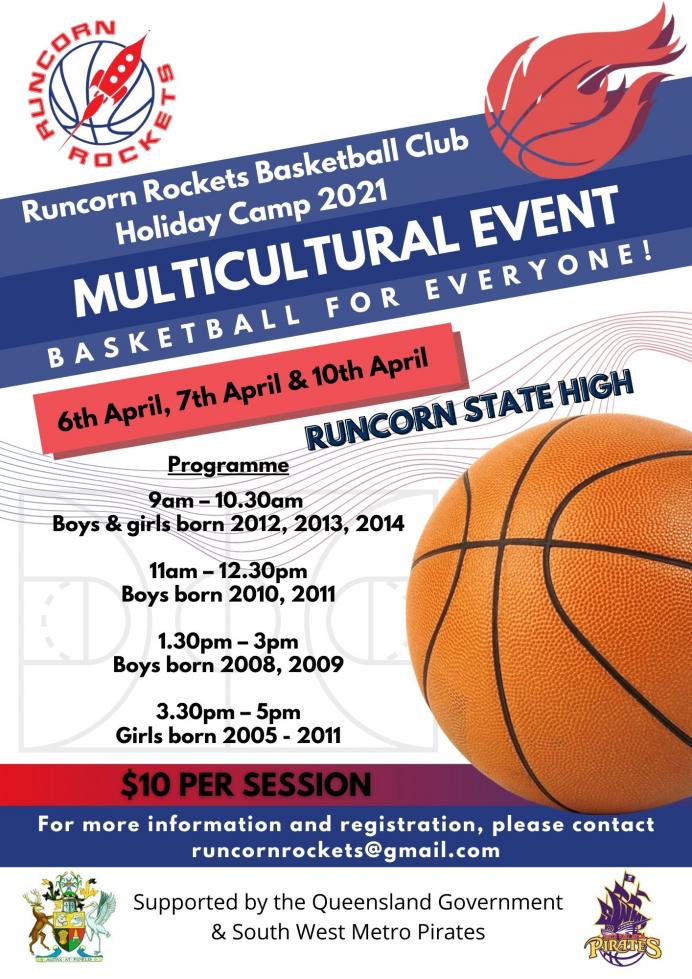 From the courts
Mark Smith
President
Runcorn Rockets Basketball
Sponsored by
| | |
| --- | --- |
| | 1300 635 627 |
| 3422 0059 | Call 0438 006 888 |
| | |
| | |