Season is getting closer

Hi everyone,
we are getting closer to finishing our holidays, going back to school and for Basketball to start up again.
This time of year Rockets have their planning day and I would like to share the contacts for each age group. I will share our plans for Season 1 later on in the week, I think there are some exciting things happening with the club this coming season.
The committee and age coordinators are below:
Under 8 – Mark info@rocketsbasketball.com.au
Under 10 Nico/JuLi - U10boys@rocketsbasketball.com.au
Under 12 Steve Morrison U12boys@rocketsbasketball.com.au
Under 14 Paul Slinger U14boys@rocketsbasketball.com.au
Under 16 Lin Ke U16boys@rocketsbasketball.com.au
Under 18 Kelly Mansell, is also on the executive committee U18boys@rocketsbasketball.com.au
Girls Mrs Terry - girlscoordinator@rocketsbasketball.com.au
Other people you may have contact with on the committee are Mike Rapson who will look after anything relating to money, Mike Lange who does a lot of the background work in our IT area, JuLi is also our Secretary.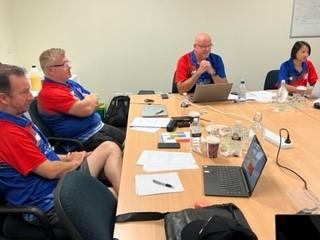 Paul, Steve, Mike Rapson, Ju Li (Mark was at the other end of the Camera)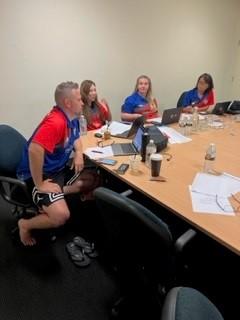 Mike Lange, Lin, Kelly, Terry
Grading Day and process
Our Grading/Sign on day is on Saturday 21st January and we will send a flyer out in the next few days regarding times for different ages. The day will start at 8:30am and each age group will have about 1.5 hours. Short and the new shirts will be also on sale at the sign on day.
After the day everyone will be sent an email with your team, your coach, time and location of training. If you are registered we will have all your current information and it will make things so much faster.
Please register
We do not want any of our current members missing out so if you could please register as soon as possible this will guarantee you a spot. We have already received enquires from members of other clubs as they have been told their club is full, I am not sure if they reduced numbers or why they are full so quickly.
Kind Regards
Mark Smith